Providing quality support to empower independence and personal dignity.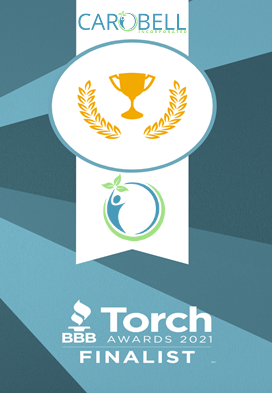 BBB Torch Awards Finalist - Vote Now!
We are so thankful to have been chosen as one of the top 3 finalist for the 2021 Better Business Bureau (BBB)Torch Award! As a finalist we've been added to the online ballot for the BBB Consumer Choice Award! Join us by submitting your vote for Carobell, Inc. at https://bit.ly/36QjS1t. You are allowed to vote once a day now through September 30! Start now by clicking the link below.
Your donations make a difference. We greatly appreciate your support.
Mission: Carobell, Inc. is dedicated to empowering individuals to reach their fullest potential. Carobell is dedicated to providing 24-hour high-quality care and responsive services for children and adults with diagnosed Intellectual Developmental Disabilities. Our community based, person-centered environment is facilitated by dedicated nursing and direct care staff and is available for all North Carolina residents.
Vision: To continue to develop professional services and quality supports that focus on empowering independence and personal dignity. Learn More
I absolutely love working at Carobell. As a volunteer, I am surrounded by people who truly love doing what they do every single day. They all take such pride in their work and it's clear that they are passionate about their jobs. Our residents are rays of sunshine and I'm so glad I get to make a positive difference in their lives.
Wow! Words cannot express how grateful I am to Carobell! The staff is so empowering. Each and every individual they care for is completely awe inspiring. My heart is so full. The best thing about Carobell is the love and support they provide to my daughter. I feel at peace knowing she is living her life to the fullest.